References
See what past clients have to say about the quality of Resolve It! Mediation's services:
Lisa R.
Margaret was there when nobody else was. We had just lost our rental property to a fire. We were overwhelmed, to say the least. Margaret went out of her way to help us, guide us and make important introductions that made all the difference in the world. We went from stressed and unsure to having hope. I cannot thank her enough for her kindness, generosity, compassion, and extraordinary expertise and help.
Francis G.
I cannot recommend Margaret enough for her mediation skills. She not only deftly handles her cases, but has also served as a mentor for me in developing personal and professional mediation skills. I would not be who I am today, and would not able to handle the situations I can handle without her guidance and direction.
Gretchen Palmer
No one likes to be in a position where mediation or arbitration comes up in real estate, but it happens. Margaret Garemore was my savior.
She has an extraordinary gift in this field. Her ability to understand a situation and find the best direction for all parties is amazing. Margaret was there every step of the way for my client and I. She had the ability to see things about my client that I missed. My client immediately felt the freedom to express how she felt, what she needed, and what her bottom line was to the situation. Margaret's sense of professionalism, understanding, knowledge, passion and care was astounding.
Helen Chen Marston
MBA, GRI, CIPS, TRC, GREEN, SRES, SFR
Keller Williams Realty
This is the first time my clients needed to use mediation to settle a lease agreement dispute. The situation was kind of tough, but Margaret Garemore successfully reached my client's goal and got the binding agreement done in a very short time. Margaret is very professional, skillful and confident. She knows how to deal with all types of personalities. She has great experience and knows how to make mediation work. I strongly recommend her services as a professional Mediator.
Tiona Wierman
GRI, ABR, SRES
I want to express my appreciation for the skill and expertise you exhibit as a mediator.
Your ability to listen and to help resolve issues is extraordinary and your style of communication lends itself beautifully to calming a situation.
I would be completely confident having you mediate, as your experience and comprehension enable you to get to the heart of the matter and help find viable solutions.
I know I can come to you for solid advice whenever I have a difficult real estate situation as you have helped me many times. I always appreciate your viewpoint because it is objective and geared to finding a resolution.
You are a tremendous asset to Podley Properties. Recently your name was submitted as one of three mediators to a client of mine. He informed me that he was incredibly impressed with you. I have the sense that you helped him resolve his situation in one phone conversation!
Diane J.
Thank you for your sane and practical guidance that helped me to mediate a difficult money matter with my clients. Your positive compassionate helped me cut through the anger and allow everyone to have their say in the final resolution. From one colleague to another, thank you so much for taking the time to talk to me about this seemingly impossible impasse.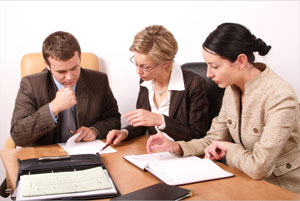 For a free consultation:
Please contact me by phone: (626) 483-4611
or e-mail: margaret.garemore@gmail.com