Mortgage Info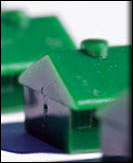 Buying a home is one of life's biggest expenses. Like most other large purchases, financing is usually the most prudent way to complete such transactions.
Finding the right mortgage financing option for your new home purchase can be a difficult process. There are a multitude of lending companies out there, that offer differing financing packages. Rates and options are quite varied, so it's critical to look around for the best mortgage for your own particular financial situation.
If you'd like a little help in finding a good lending institution, let me know! I'd be happy to share my contacts in the mortgage industry here in Pasadena, or assist you in any other way to find your ideal rate for your upcoming purchase.
Please try the mortgage calculators below, which may help you to discover the sort
of mortgage you may need, and see if you might be able to qualify for a loan of that size.
Mortgage Qualification Calculator
Mortgage Payment Calculator & Amortization Table
The first calculator determines if you can qualify for different sized mortgages. The results are non-official, and based solely on your self-reported data. You can input different variations to see what sort of loans you can qualify for under different circumstances. When you go through the official process, you will be subject to a formal credit approval from the lending institution, which includes consideration of down payment amounts, existing debt, and income levels, among other variables.
The second calculator determines possible mortgage payment sizes, depending on interest rates, terms of the mortgage, and purchase price, among other variables. The amortization table shows what the possible interest and principles may be through the duration of the mortgage.